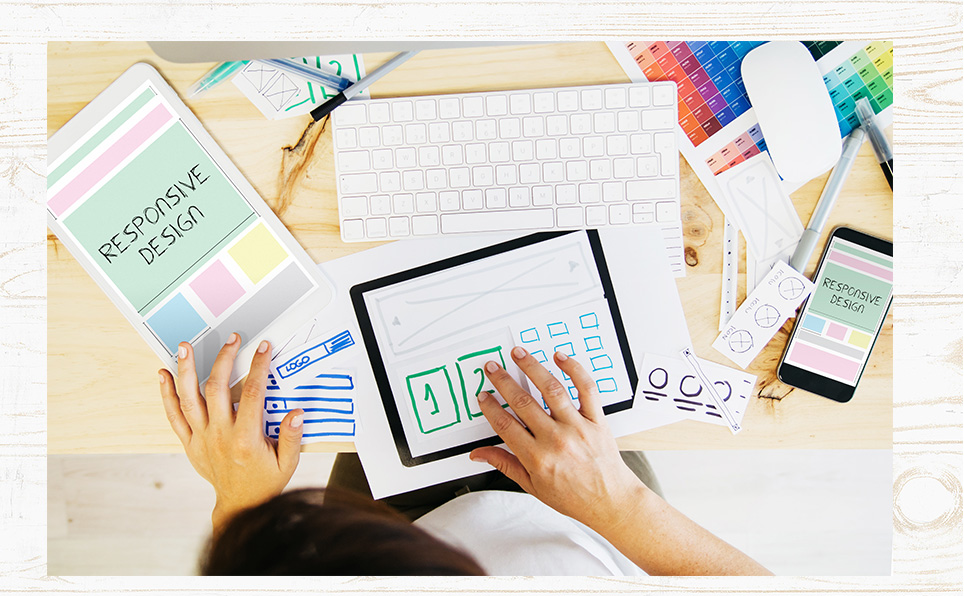 90% of users value good design as an important decision-making factor when buying through an online store. An adapted design retains more traffic, users feel comfortable browsing and your e-commerce attains more sales. At Casals Online, we are online store specialists. Our designs are based on basic design principles along with ideas such as user experience (UX), ease of navigation (UI) and responsive design so stores are aesthetically pleasing but also useful, enjoyable and easy to use.
HOW WE WORK
USABILITY
We know that the first, and most important, factor is to sell. But, how do you want customers to reach your product page? What journey do you want them to take to reach it? How should products be structured and categorised? These concepts are basic in terms of defining the general design outlines for your online store.
WHAT WORKS IN YOUR SECTOR?
It's already clear what you want. Now let's analyse the objective and see what works in your sector. Have a look at your competition, analyse the latest graphic trends, etc. This can help us to redefine some areas.
MULTI-DISCIPLINARY WORK
To work on the design of your online store, our design team works in partnership with the development and SEO team, so the technical aspect and web positioning aspect are taken into consideration at all times.
USER EXPERIENCE
Achieving an attractive website, which invites users to browse, entertaining and retaining them, is essential for generating more interactivity and ultimately more sales.
RESPONSIVE DESIGN
Creating different designs for each device, first considering the mobile format (Mobile First) is now essential. Online users check products on their mobile phones before buying on their computers. If your online store is not 100% adapted, you should get on the case. You're missing out on sales opportunities every day. We believe adaptability is essential.
TESTING
Your online store is in the home straight. The time has come to test how it works and to check with several users that everything functions as expected, also in terms of design. If something doesn't fit, don't worry, we've included this time frame to ensure that the final result meets expectations 100%.
BENEFITS
Reduce the bounce rate.

Ensure online users spend more time on your website.

Improve the user experience.

Make sure users don't get lost in your store.

Improve conversions.

Improve your online reputation
CONCLUSIONS
Online, design is very important to grab attention and convince demanding users. One negative impact is the same as 10 positive ones. Details are key and building trust with a good design can make the difference between an e-commerce attracting users or not, and an online store inviting users to buy or failing to do so.
Casals Online is well aware of this, and we work hard to achieve the best design solutions for online stores. We guarantee that we'll make every effort to ensure your e-commerce is original, unique and works. Give us a call and we'll be happy to help you.
OTHER SERVICES WEBSITE DESIGN